Support for Families and Children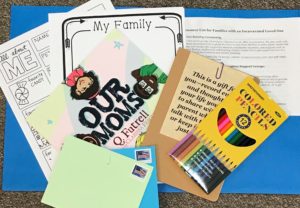 Utilizing funding from Iowa City Human Rights Commission's Social Justice and Racial Equity grant, Inside Out is supporting children impacted by incarceration by providing youth support kits. Kits are for children in Johnson County who are age 9 and younger and have an incarcerated parent. Kits include a children's picture book about having an incarcerated caregiver, pre-stamped note cards to send to an incarcerated loved one, a resource folder with activities, coloring pencils, and a journal. To request a kit, click here: bit.ly/YouthKit
Resource List for Families with an Incarcerated Loved One
Inside Out Reentry Community: Inside Out serves people returning to Johnson County after incarceration. We also work with individuals incarcerated throughout the State to help them develop re-entry plans. Inside Out connects individuals with supportive mentors, community resources, and supports such as  assistance finding employment and housing. Contact Inside Out to get support for you or a loved one during incarceration and reentry planning.
500 North Clinton St, Iowa City, IA 52245; website: insideoutreentry.com; 319-338-7996; email: hello@insideoutreentry.com
Support Groups for Those with an Incarcerated Loved One:
Living Beyond the Bars: Hosted in Johnson and Linn counties, Living Beyond the Bars' Support Group offers emotional support to families and friends of persons who are incarcerated as well as provide individual support. They also volunteer to transport loved ones for visits in Iowa's prisons when the visiting rooms reopen. Contact them for the support group schedule, or to get individual assistance.
website: livingbeyondthebars.org/;  575-343-0202 (Sue Hutchins – founder);  email: LBTBSue@yahoo.com 
Voices to Be Heard: This Des Moines based, offers bi-weekly a support group for families, friends, and children who have a loved one incarcerated.
website: facebook.com/voicestobeheardofiowa/; email: vtbhiowa@yahoo.com 
 Mentoring Programs for Children:
Big Brothers Big Sisters: Big Brothers Big Sisters is a well-known mentoring program for youth ages 6 and above in Johnson County. Mentors provide positive role models and can empower youth to build self-confidence. Transportation provided.
website: bbbsjc.org/enroll-a-child/ 
Children of Promise Mentoring Program: Located in Linn County, the Children of Promise Mentoring Program serves youth who have an incarcerated family member. Children can sign up for a mentor beginning at age 5 and can stay connected with their mentor and the program until they are 18. Children of Promise aims to reduce the number of youth who will be impacted by a parent's incarceration by connecting them with a one-on-one mentor, community mental health assessment and resources, Behavioral Health Intervention Services (BHIS), and positive group activities to help heal from trauma. 
website: childrenofpromisementoringprogram.org/about; email: hello@childrenofpromisementoringprogram.org 
Counseling Services for Youth & Families:
 Prelude Family Support Sessions: Prelude provides services for individuals seeking support for their addictions. Family sessions   focus on the other members of the family. Individual family sessions focus on understanding what you want for your loved one, your goals for yourself in relation to this loved one, and developing a strategy to accomplish those goals. There are a variety of directions these sessions can take, depending on your unique situation. These sessions will be provided on a sliding fee schedule.
 website: preludeiowa.org/our-services/family-services/; (319) 351-4357
 United Action for Youth (UAY): UAY offers a variety of services for youth in Johnson County. The counseling program accepts youth under 23 and their families. Additional mental health services include: mediation, crisis resolution, informal counseling and skill building, and issues related to family and peer conflict, LGBTQIA+ identity, resource connection, anxiety, depression, divorce, etc. The Swaim Youth Center offers groups for youth in grades 6 through 12.
website: unitedactionforyouth.org/counseling; 319-338-7518

University of Iowa Hospitals and Clinics Psychiatry & Psychology: University of Iowa Stead Family Children's Hospital provides a full range of mental health services to children and adolescents. They offer services ranging from outpatient care to acute inpatient treatment. Services include medication management, educational consultation and testing, psychological testing, individual therapy, and family counseling. Services include assisting with concerns regarding attention, Autism, behavior, development, eating disorders, emotional regulation, learning difficulties, motor difficulties, and substance use.
website: uichildrens.org/medical-services/psychiatry-and-psychology; 800-777-8442
Online Resources for Parents:
Sesame Street: Coping with Incarceration Resources: Provides parents and caregivers with bilingual (English & Spanish) tools to help children ages 3-8 cope with the many transitions related to a parent's incarceration. Activities, videos, printables and an app:
Move Your Mind (youth founded and focused mindfulness resources)
AFOI (Assisting Families of Inmates): Preparing a Child for a visit/virtual visit and
Coping Strategies