Fundraising Tool Kit
Interested in fundraising for Inside Out? We have created these images and info for you to leverage your own circle to help those returning to the community after incarceration. Save one of these images for your own use on Facebook and Instagram!
This is a banner year for Inside Out as we open a new Reentry House with new staff, new programming, and new costs! See below for tips on giving a successful fundraiser!
---
---
---
---
How to Set Up a Facebook Fundraiser: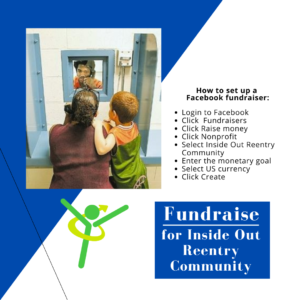 You'll see a screen pop up where you can invite your friends to donate to your fundraiser, share your fundraiser in your feed, or donate to the fundraiser yourself!
---
TIPS FOR A SUCCESSFUL FUNDRAISER!
Before you launch:
Set your goal. How much do you want to raise?
Set your timeframe. Shorter timeframes tend to be most successful. Two weeks is usually the magic number!
During your campaign:
Communicate. Let your circle know you are fundraising and why.
Be the first to donate. Lead by example with a $10 or $20 donation and challenge your friends to donate!
Outreach. Share your campaign on social media and invite friends to contribute.
Follow up. Give shout outs to those who have given and continue to encourage those who haven't.
After your campaign:
Give thanks. Express gratitude and remind people of why you are fundraising.
Share your impact. How much did you raise, and did you meet your goal?
Inspire. Challenge others to start their own fundraiser and help them get started.
Other ideas for a successful fundraiser:
Start a week or two before a significant event like a birthday.
Tie donation amounts to specific ideas (give $40 for my 40th birthday)
Encourage large donations by advertising that you will post a funny/embarrassing photo over a certain amount.
Ask for donations instead of presents.
Have a matching fundraiser – you, your parents, etc. will match donations.
Have a special prize drawing for all donors and post the winner after the fundraiser is over.