Johnson County organization helping former inmates
[Source: "Johnson County organization helping former inmates," KCRG, 5 April 2017, by Beau Bowman]
A organization in Johnson County is helping ex-cons stay out of jail. Inside Out Re-Entry held a forum Wednesday in Coralville where participants shared their story.
"I never would've went back if I hadn't had those people tell me 'hey man you can do this,'" Robert Crader said.
Crader has been out of prison for more than two years. Since then, Crader enrolled in a trade school and will graduate soon. He gives all the credit to Inside Out Re-Entry, a program that helps convicted felons return to life, after time in prison.
"A lot of people don't have other resources and other people to support them. So this is integral," Carder said. "This is so important to people returning from prison to have someone that's going to help them get their leg up when they get out."
Inside Out says one of three felons is back behind bars within five years. That's where Director Mike Cervantes comes in.
"It's crucial to have as much help as possible for those individuals," Cervantes said.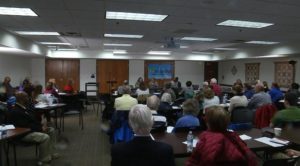 So Inside Out works with area prisons to help inmates who are getting ready to leave.
"We provide help with the basics," Cervantes said. "We also work with people on providing a community of support, providing mentors, providing other people they can talk to."
Crader praised the program for helping him adjust.
"That's the most effective way to have somebody show them that you love them and show them that you support them and that you want them to succeed. Their belief helped me believe in myself."