Iowa City re-entry program helps former inmates make the transition from prison to the outside world
[Source: "Iowa City re-entry program helps former inmates make the transition from prison to the outside world," The Gazette, 17 September 2017, by Michaela Ramm]
IOWA CITY — Craig Rockenbach has decided to better himself.
Rockenbach, 37, of Iowa City, is a habitual offender who most recently spent 27 months in prison after being sentenced in 2016 for theft in the second degree, a Class D felony.
When he was released in mid-July, Rockenbach said he didn't "need to be doing that anymore." So he sought the help of an Iowa City-based program aimed at assisting prisoners recently released from Iowa's correctional system.
The goal of the Inside Out Re-entry program is to help former offenders make a positive re-entry back into the public.
"We help people find work, find a place to live and connect to community resources," said Mike Cervantes, executive director of Inside Out.
Rockenbach was hired Aug. 26 as a housekeeper with the Hilton Garden Inn, the new hotel in downtown Iowa City. Since the hotel still is under construction, he has been helping clean it in preparation for its opening in October.
He said the job became a possibility through Inside Out, which offered resources and mentoring throughout the application process.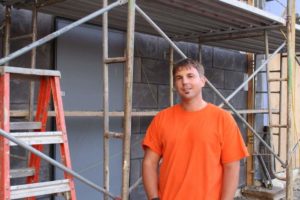 "It might be a small thing, but it's programs like this that give people a second chance," Rockenbach said.
The re-entry program was founded more than two years ago by Dorothy Whiston, a former pastor, and is located at the Spirit of Christ Church in Iowa City. Inside Out is a nonprofit organization and relies on funding from donors and local grants from the city of Iowa City, Housing Trust Fund of Johnson County and more.